Presentation Fundamentals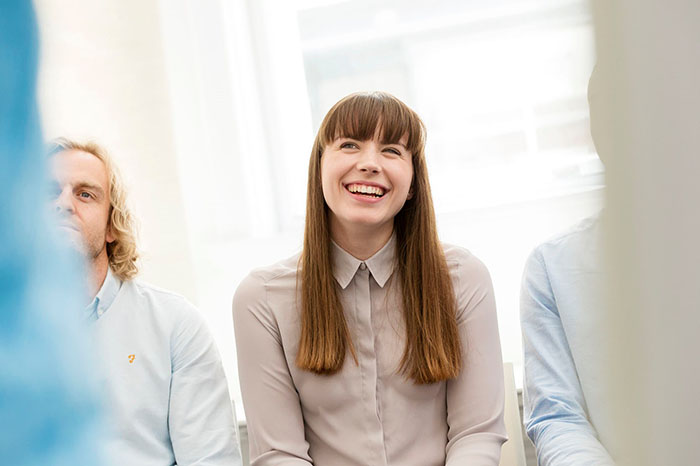 Overview
Perhaps you're new to the corporate environment and you're creating your first presentations? Or maybe you've been winging it for a while and now it's time get some expert help? Then Presentation Fundamentals is for you. 
Presentation Fundamentals takes a rounded look at presenting. It helps you improve what you say and how you say it. 
Some of the most common pleas we hear from managers are: 'Can you help my people deliver presentations which have a clear argument, and make clear recommendations?'; 'how can I get them to make their presentations shorter?', 'how do I stop them reading off the slides?'. It can be tempting for presenters to show how much they know, or how much work they've done. This can make it tough to communicate a clear story or a logical argument. 
Presentation Fundamentals gives a solid grounding in the fundamentals of presentation creation and delivery. You learn how to think about your presentation in a more strategic way. Who is my audience? What am I trying to achieve? We then look at how to structure content and how to design the slides to give the message the best chance of success.
Participants Learn
The three stages of any presentation

What to think about before you start writing your slides

The importance of starting with your audience – what to consider

Thinking more deeply about what you're really trying to achieve

Tailoring your message to your audience

The four most useful presentation structures

Techniques to create an effective logic flow

Adapting your slide design to different presentation formats

How to avoid reading off your slides

Tips to memorise your content

The role of visuals and layout

An introduction to presentation delivery – the one thing can I do to be a better presenter tomorrow
Course Outline
Presentation Fundamentals is a mix of theory, discussion, practice and coaching. 
We believe in making the learning as relevant as possible, so attendees come either with a recent presentation, or come ready to plan a real, upcoming presentation. Attendees use these examples during the exercises around planning and design. We use the breakout group debriefs as an opportunity to give delivery coaching. 
In all, attendees come away feeling that the day has been even more effective than they'd expected and feel fully equipped to prepare their next presentation with confidence.
Additional Information
Typically, we run this session with groups of 4-12 people, over one day. This allows us to give each attendee individual attention. We can also adapt the session for larger numbers. 
The course is run by one of Make Yourself's experienced facilitators. Each one is skilled at tapping into the specific needs of the attendees, helping them progress and building their confidence when they're on their feet presenting. 
Presentation Fundamentals is a natural partner to Presentation Masterclass, which is fully focused on presentation delivery. They can be run together very effectively as a two-day programme, or as part of a wider programme.
Share this course on social media: